Synthetic Oil Change Service
Synthetic Oil Change Service
At All Star CDJR, we know that it can sometimes feel as if there are a massive number of different services to keep track of for your vehicle. Sometimes you're so busy trying to cover all of your bases that you forget about the most obvious ones. That's why today we'd like to remind you to stop by often for synthetic oil change services!
The Benefits of an Oil Change
As common as they might sound, frequent oil changes are critical to your engine's health. This is because engines aren't really one piece, but a large number of moving parts that work in conjunction to provide you with the power you expect out of your vehicle. Everything works in unison, and this means that there's potential for friction. Oil serves as a lubricant that prevents things from scraping together and damaging each other—if you've ever heard a rusty door hinge, you can imagine what this might be like. It also acts as a coolant to stop overheating, which can be especially important when temperatures start to rise. Preventing any of these symptoms is as easy as taking a few minutes out of your day to have your old, mucky oil replaced with fresh, golden liquid.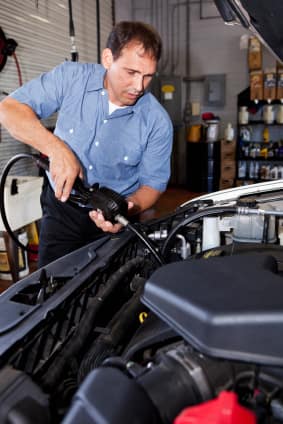 Synthetic vs Standard Oil
Synthetic oil fulfills the same goal as the standard kind you might be used to—however, it has a number of discreet benefits that we're certain you'll enjoy. First and foremost, it's useable in most standard engines, so you don't need to count yourself out if you don't have a diesel powertrain. Because it has additives not present in standard oil, it better fulfills its goals of breaking down deposits, protecting against temperatures, and reducing overall engine wear. Synthetic oil also typically lasts much longer, so you won't have to visit us as frequently for changes. If you're interested in making the upgrade, join us at All Star CDJR!
Service
If you've decided that it's time for a change, you can quickly and easily schedule a service appointment on our website. We'll know that you're coming and what you're visiting for, so we can set up and be ready for your arrival. This means that you won't have to wait once you get here, and the procedure will be performed as quickly as possible, allowing you to get back to your busy schedule. We'll swap out your vehicle's oil and also make sure to quickly check out anything else that might need work, like your fluid levels, air filters, tire wear, and brake pads. If anything isn't quite up to snuff, we'll let you know.
Don't hesitate! Join us at All Star CDJR and start benefitting from everything that a synthetic oil change service could do for you. You can find us at 11503 St. Charles Rock Road in Bridgeton, MO.
Related Articles:
Contact Service
Please don't hesitate to direct your service questions to us! Fill out the simple form below and our technicians will get back to you.
Sales Hours
​314-656-8123
| | |
| --- | --- |
| Monday | 9:00 am - 8:00 pm |
| Tuesday | 9:00 am - 6:00 pm |
| Wednesday | 9:00 am - 8:00 pm |
| Thursday | 9:00 am - 6:00 pm |
| Friday | 9:00 am - 8:00 pm |
| Saturday | 9:00 am - 6:00 pm |
| Sunday | Closed |
Service Hours
314-656-8962
| | |
| --- | --- |
| Monday | 7:30 am - 6:00 pm |
| Tuesday | 7:30 am - 6:00 pm |
| Wednesday | 7:30 am - 6:00 pm |
| Thursday | 7:30 am - 6:00 pm |
| Friday | 7:30 am - 6:00 pm |
| Saturday | 7:30 am - 6:00 pm |
| Sunday | Closed |
Parts Hours
314-684-8472
| | |
| --- | --- |
| Monday | 7:30 am - 6:00 pm |
| Tuesday | 7:30 am - 6:00 pm |
| Wednesday | 7:30 am - 6:00 pm |
| Thursday | 7:30 am - 6:00 pm |
| Friday | 7:30 am - 6:00 pm |
| Saturday | 7:30 am - 6:00 pm |
| Sunday | Closed |