SHELL ROTELLA® OIL CHANGE SERVICE
When you work with us at All Star CDJR, you'll be assisted by a team that strives to provide the best possible service and top-quality components. That's why we'll gladly keep your diesel engine as healthy as possible using Shell Rotella® oil! You'll be glad you invested in your vehicle's long-term health when it's still running smoothly down the road.
TAKE CARE OF YOUR DIESEL ENGINE
Upgrading to a diesel-powered engine means that you're ready to take a different route from most drivers. The most obvious example of this is your alternative fuel source—you have to use a different pump at the gas station whenever you're running low. In the same vein, you might want to consider using oil that is more optimized for your particular engine type. Although some people use regular fluid for their powertrains, we would highly recommend taking advantage of the unique formula you'll find in Shell Rotella® diesel-rated oil.
WHAT IS SHELL ROTELLA® DIESEL OIL?
Shell Rotella® diesel oil works mostly as you'd expect it to. This fluid helps you to regulate your engine's temperature, clean away dirt, and to lubricate all the moving components within your machine. It has a number of additional components in it that differentiate it from the standard oil used for a gasoline powertrain. For instance, additives help it to absorb more carbon and give it a higher amount of dispersants and anti-wear chemicals. You'll also find a higher viscosity level in a Shell Rotella® diesel oil, which is specifically designed to deal with the harsher conditions found within your alternative powertrain.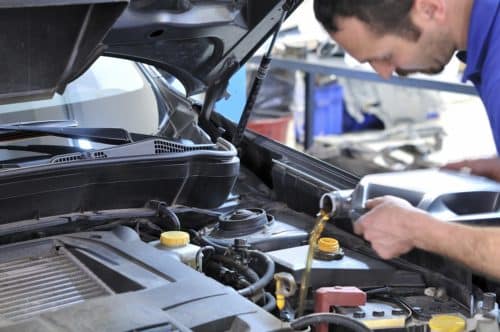 ONLINE TOOLS
We want to give you help at every step of your automotive journey, which is why we'd be remiss not to mention our advanced website! This has a number of great tools that you can start using before you even set foot in our dealership. First of all, you can schedule service online through our simple form. Next, browse through our Service Tips & Tricks page, which will give you great advice on keeping your ride running well for quite a while. Finally, don't forget to look through our specials to ensure that you don't miss any excellent discounts.
Are you feeling ready to invest in Shell Rotella® oil change service for your beloved vehicle? If so, All Star CDJR is here to help you make it happen! We're excited to meet you.
Related Articles:
Contact Service
Please don't hesitate to direct your service questions to us! Fill out the simple form below and our technicians will get back to you.
Sales Hours
​314-656-8123
| | |
| --- | --- |
| Monday | 9:00 am - 8:00 pm |
| Tuesday | 9:00 am - 6:00 pm |
| Wednesday | 9:00 am - 8:00 pm |
| Thursday | 9:00 am - 6:00 pm |
| Friday | 9:00 am - 8:00 pm |
| Saturday | 9:00 am - 6:00 pm |
| Sunday | Closed |
Service Hours
314-656-8962
| | |
| --- | --- |
| Monday | 7:30 am - 6:00 pm |
| Tuesday | 7:30 am - 6:00 pm |
| Wednesday | 7:30 am - 6:00 pm |
| Thursday | 7:30 am - 6:00 pm |
| Friday | 7:30 am - 6:00 pm |
| Saturday | 7:30 am - 6:00 pm |
| Sunday | Closed |
Parts Hours
314-684-8472
| | |
| --- | --- |
| Monday | 7:30 am - 6:00 pm |
| Tuesday | 7:30 am - 6:00 pm |
| Wednesday | 7:30 am - 6:00 pm |
| Thursday | 7:30 am - 6:00 pm |
| Friday | 7:30 am - 6:00 pm |
| Saturday | 7:30 am - 6:00 pm |
| Sunday | Closed |