The All-New Award-Winning 2015 Jeep Renegade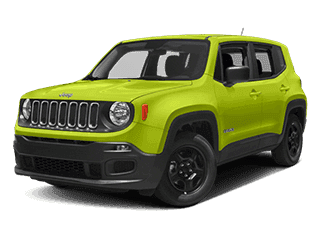 Upon its release earlier this year, the all-new 2015 Jeep Renegade quickly became a favorite among drivers and automotive critics alike! With classic yet contemporary looks, an affordable price tag, and all the capability you would expect from a Jeep there's no wonder this SUV is turning heads. Here's a quick look at who has taken notice!
Kelley Blue Book's KBB.com "10 Coolest Cars Under $18,000" – According to the editor's at KBB.com, "We all know that the Jeep brand has a cool factor that distances it from most auto brands out there, and the new Jeep Renegade takes that and runs with it. Not only does it deliver a buffet of desirable Jeep attributes – unmistakable design, superior off-road credentials, intrinsic grittiness – but it delivers this in a package that is also sensible for everyday commuting. Renegade owners won't scale a mountain every day … but they could."
"Ward's 10 Best Interiors" – According to Drew Winter, Editor-in-Chief, WardsAuto World magazine, "The Jeep Renegade lives up to its name by bringing a rebellious new style to the overcrowded small SUV segment. The interior checks off all our boxes in terms of being roomy, comfortable and having excellent ergonomics — even the voice-activation system works flawlessly. But, the attention given to interior details and design is truly spectacular for a vehicle in this class. Whimsical design elements, bold, contrasting colors and stunning metallic bronze trim convey a sense of fun and adventure that sets it apart. The Renegade isn't a 'cute ute,' it's the Cherokee's badass little brother."
KBB.com's "10 Best SUVs Under $25,000" – According to KBB.com editors, "Jeep's entry-level newcomer has been attracting attention with its charming, retro-modern looks, but it has a lot more to offer than style. The Renegade allows open-air driving, similar to its big-brother Wrangler, and the nimble compact is comfortable on the road, fuel efficient and capable of venturing off-road."
AAA Arizona Top Pick for Cool Car segment
For 2015 the Renegade is offered in three FWD and four 4×4 models. These models include the Sport, Latitude, Trailhawk (4×4 only), and Limited. Prices start at only $19,995 MSRP for entry level Sport FWD options with the ability to personalize the Renegade to meet all of your specific needs.
As any SUV fan can see, the Jeep Renegade for sale near Town & Country is already brining home all the right honors! Why not come by and take a look for yourself? The team at All-Star Chrysler Dodge Jeep Ram is proud to offer the St. Louis area's largest selection of the all-new Renegade right now! In fact, our team also promises to make you a fair deal without the hassle. Visit our showroom to find why the Renegade could be your next family SUV choice today!