DODGE CHRYSLER JEEP RAM BRAKES
Have you been hearing a strange noise when you apply the brakes in your vehicle? Or maybe you've noticed it seems to take longer and more force than it used to in order to come to a complete stop. These are signs that your vehicle is in need of new brakes, so head on over to All Star Dodge Chrysler Jeep Ram and talk with our Service Department!
WARNING SIGNS
You have a busy schedule – between work, family obligations, running errands, and all kinds of other unexpected events, we understand that it can be hard to set aside time to get your vehicle worked on. The good news is that our service bay is here for you six days a week, including Saturday. We also offer Express Lane Service, which gets you in and back on the road quickly for routine maintenance such as an oil change or tire rotation. Plus, with Express Lane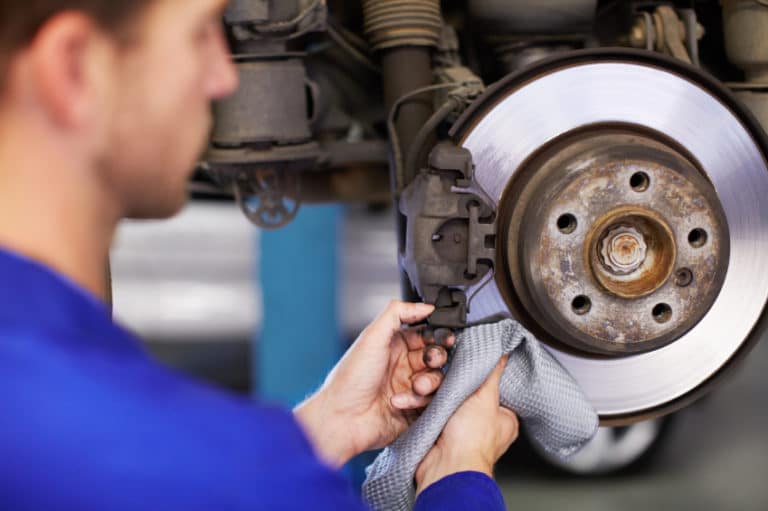 would also be happy to do a quick brake test during any of our service hours six days a week. Feel free to stop and utilize our Express Lane or give us a call at 314-373-7521 to talk with a member of our knowledgeable team.
THE IMPORTANCE OF NEW BRAKES
Regardless of whether you drive a Jeep Wrangler, Dodge Challenger, Ram 1500, or Chrysler Pacifica, your vehicle is equipped with a set of brakes with brake pads. These pads are what help absorb the force that comes with stopping, which is why they eventually wear out. If you drive a FWD model your front brake pads will likely wear out first, since they are taking additional force. AWD or permanent 4WD models have more even pressure applied to each brake pad, so there's a higher chance that all four pads will need to be replaced at once. Either way, you want to avoid driving once the brake pads have been worn down too thin — this is where the rotors begin to hit each other and cause serious damage.
SERVICE OPTIONS
The good news is that getting a new set of brakes or brake pads can be done stress-free with the help of our comprehensive Service Department. Sit back and relax with a complimentary cup of coffee in our spacious customer waiting lounge while our certified technicians get right to work. Have the kids along with you or need to get work done? We've got you covered with a children's play area and work business stations. While the wheels are off our technicians also take this opportunity to check the alignment and tire condition. We provide a free multi-point inspection with all appointments to keep you informed about your vehicle. Many customers also like to make the most of their visit and combine a tire rotation or oil change.
For Dodge Chrysler Jeep Ram Brakes come to your local expert — All Star Dodge Chrysler Jeep Ram! We're here for all of your repair and maintenance needs.
Related Articles:
Contact Service
Please don't hesitate to direct your service questions to us! Fill out the simple form below and our technicians will get back to you.
Sales Hours
​314-656-8123
| | |
| --- | --- |
| Monday | 8:30 am - 8:00 pm |
| Tuesday | 8:30 am - 6:00 pm |
| Wednesday | 8:30 am - 8:00 pm |
| Thursday | 8:30 am - 6:00 pm |
| Friday | 8:30 am - 8:00 pm |
| Saturday | 8:30 am - 6:00 pm |
| Sunday | Closed |
Service Hours
314-656-8962
| | |
| --- | --- |
| Monday | 7:30 am - 6:00 pm |
| Tuesday | 7:30 am - 6:00 pm |
| Wednesday | 7:30 am - 6:00 pm |
| Thursday | 7:30 am - 6:00 pm |
| Friday | 7:30 am - 6:00 pm |
| Saturday | 7:30 am - 6:00 pm |
| Sunday | Closed |
Parts Hours
314-684-8472
| | |
| --- | --- |
| Monday | 7:30 am - 6:00 pm |
| Tuesday | 7:30 am - 6:00 pm |
| Wednesday | 7:30 am - 6:00 pm |
| Thursday | 7:30 am - 6:00 pm |
| Friday | 7:30 am - 6:00 pm |
| Saturday | 7:30 am - 6:00 pm |
| Sunday | Closed |