If you want your powerful diesel engine to stay healthy for the long haul, staying on top of its servicing is a necessity. Luckily, most of the regular tune-ups your powertrain will require are quick and easy, so you'll just need to make a painless visit to our service bay at All Star CDJR before getting back on the road! If you have any questions, feel free to contact our service department at 314-373-7521.
OIL CHANGE
We'll begin with some of the engine maintenance that is identical to that of standard gasoline engine. Whether you want to inspect your oil yourself or bring it in to us, the replacement process is nearly identical. We'll drain your older, dirtier fluid before replacing it with fresh, clean liquid to help regulate your engine's temperature and prevent the buildup of grime and gunk. The only thing to be mindful of is that some diesel engines require a different grade of oil. Luckily, we're well-stocked with all the components we might need, including a synthetic blend if that's your preference.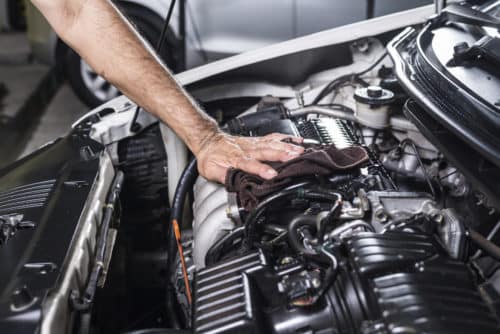 AIR FILTER REPLACEMENT
Fitting an air filter is equally similar. When you join us for this service, we'll take a look at yours to see where it is in its lifespan. By the end, your filter will be pretty full of all the particles it has prevented from entering your powertrain. We'll remove this older one, wipe out the casing to ensure that everything is spotless, and then reassemble the component around a fresh filter that will continue to protect your diesel engine from any grit that might be trying to get in through the air intake.
DIESEL MAINTENANCE
Finally, we'll take a look at some of the hotspots that are more unique to diesel powertrains in particular. For instance, although this system doesn't have an ignition system to look at, we need to keep a more watchful eye on the fuel system to avoid any issues due to water and dirt. We'll complete a number of tasks, including resetting the idling speed, replacing your vehicle's particular fuel filter, and manually bleeding your engine system of oxygen to ensure that everything operates smoothly when you activate your powertrain for the first time after your visit. By just staying mindful of coming in, you could keep your diesel engine alive far longer than its standard gasoline counterpart!
If you've realized that you've been neglecting your automobile a bit, come in to All Star CDJR for our expert diesel engine service. Our team members are eager to show you their expertise.
Related Articles:
Contact Service
Please don't hesitate to direct your service questions to us! Fill out the simple form below and our technicians will get back to you.
Sales Hours
​314-656-8123
| | |
| --- | --- |
| Monday | 9:00 am - 8:00 pm |
| Tuesday | 9:00 am - 6:00 pm |
| Wednesday | 9:00 am - 8:00 pm |
| Thursday | 9:00 am - 6:00 pm |
| Friday | 9:00 am - 8:00 pm |
| Saturday | Closed |
| Sunday | Closed |
Service Hours
314-656-8962
| | |
| --- | --- |
| Monday | 7:30 am - 6:00 pm |
| Tuesday | 7:30 am - 6:00 pm |
| Wednesday | 7:30 am - 6:00 pm |
| Thursday | 7:30 am - 6:00 pm |
| Friday | 7:30 am - 6:00 pm |
| Saturday | 7:30 am - 6:00 pm |
| Sunday | Closed |
Parts Hours
314-684-8472
| | |
| --- | --- |
| Monday | 7:30 am - 6:00 pm |
| Tuesday | 7:30 am - 6:00 pm |
| Wednesday | 7:30 am - 6:00 pm |
| Thursday | 7:30 am - 6:00 pm |
| Friday | 7:30 am - 6:00 pm |
| Saturday | 7:30 am - 6:00 pm |
| Sunday | Closed |