Check out the Brand New, Next-Generation 2018 Jeep Wrangler in St. Louis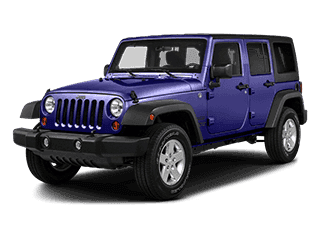 The Jeep® Wrangler has always been a capable and practical vehicle, but the 2018 Jeep Wrangler takes these features to whole new levels. The newest, modern design is true to the classic design but also offers some much-needed improvements. All Star Dodge Chrysler Jeep has the new 2018 Jeep Wrangler in stock and ready for you, so come down and visit us in St. Louis, MO to check it out in person today!
Newest Features of the 2018 Jeep® Wrangler
The 2018 Jeep Wrangler offers many new features that you'll come to love. You'll have access to the advanced fuel-efficient powertrains, open-air options plus additional safety features and technology amenities.
The new interior design stays true to the classic, iconic features but also offers some new authentic looks as well. With precise craftsmanship and only the highest quality of materials being used, you can expect to find an improved versatility with a superior comfort. Part of the new design includes a keystone-shaped grilled, square tail lamps, round headlamps, increased aerodynamics as well as a fold-down windshield. There are also dozens of door, top and windshield combinations you can choose from.
There's no question that the Wrangler has been the most off-road capable SUV in the world. It continues to offer solid axles, flexy suspensions, vast amounts of ground clearance and short overhangs. Now, the 3.6-liter Pentastar® V6 engine that was a staple in the Wrangler since 2012 has been upgraded. You now receive a two-step variable valve life plus the cooled exhaust gas recirculation. You can also opt for the new 48-volt hybrid 2.0-liter turbocharged inline-four if you prefer. The transmissions are also all new as well as the electro-hydraulic steering. The design of the 2018 Jeep Wrangler is a couple inches longer while the frame is 100 pounds lighter.
New 2018 Jeep® Wrangler Models to Drive
Your friends at All Star Dodge Chrysler Jeep Ram have a full lineup of new Jeep models near St. Louis, MO for you to test drive. If you think you've been in love with the previous generations, you haven't seen anything yet. Surprise yourself and test drive the 2018 Jeep Wrangler in Bridgeton, MO to find out what all the fuss is about, and even view our various lease deals. Stop in today or contact us now to find the best 2018 Jeep® Wrangler for sale in Bridgeton, MO. Before you go, since you'll be in town at our dealership, why not take a look at the best places to stop to eat in Bridgeton, MO? We have a list of favorites you won't want to miss!